The
Flux Capacitor
"It's what makes time travel possible"! .... Doc Brown
Our Flux Capacitor is so accurate & professionally made that even Doc Brown would be envious of.
Our Demo Video
on YouTube.com
Click to hear Client Testimonial on YouTube.com
OUR UNBEATABLE
Warranty & Service


Life time limited warranty on our labor to original purchaser.
12 month limited warranty on all electrical circuits & components. (Scratches to any parts do not apply)

"How To" instructions
comes with all our products.

Coulombe Enterprises

1293 North County Road 426 suite 121, Oviedo Florida 32765

PH:

561

-752-7535


​Email:

info@DeloreanTimeMachines.com




Located in the Winter Miles Industrial Park

Power by Mr.Fusion Hill Valley Industries & 1.21Jigawatts
To purchase one of our screen accurate Flux Capacitors
Click on the

"Buy Now"

icon of your choice to be teleported to our PayPal Signature Checkout Service.
Time Displacement
Series Flux Capacitor
screen
accurate special effects version


Includes:

Time Dispersal running chaser mode with 12 warm white lights fluxing back and forth as seen in the movie unit and the "NRG: electrostatic background noise. This unit comes with all its features controlled by a handheld 2 button remote

​

1985
​
Doc Brown
Series
​
Flux Capacitor
screen accurate standard version.
​​
This is a Pulsating Flux Chaser version with a

​​main on/off power switch only.

When activated, this unit will start fluxing back and forth its 12 warm white lights just as seen in the Delorean Time Machine.

​​
As in "all" our Flux Capacitors, this unit is movie/film accurate

Our
Craftsmanship
Impressive, Highly detailed, Solid and made to last!!
Our


SCREEN ACCURATE DETAILS


Are second to "NONE"!
This is why we still have "No Competition"!
All our Flux Capacitor features have been thoroughly researched, verified and authenticated to be extremely screen accurate before we went into production. We engineered our lighting and audio effects (features) to give our Flux Capacitor mesmerizing, eye opening attention, EZ controllable functions and professionally built "ROCK SOLID" with all of these below listed features:
Our Enclosure:


The enclosures is made by Stalin painted battleship dark grey with two quick release latches, movie correct size solid clear "acrylic" window and a screen accurate thick rubber gasket surrounding the window. Stahlin was the enclosure used for the movie screen used version however, Stahlin no longer offers the dark grey enclosure so, we obtained a color paint code match from Stahlin of the same paint color code used on the enclosure for the movie. We also obtained a paint chip from the Flux Capacitor used in the film now located on display at USF. We then compared the two and found them to be exactly the same paint match. We then remove the hardware from the enclosure, cut out the window, reposition the latches to the film accurate closer together location and professional paint the enclosures to be an exact match to the movie screen Flux Capacitor.

Our precise replicated Torr High Voltage Relays:
These replicated High Voltage Relays have been cloned using an authentic Torr model TVS-1 relay. Our replicated relay is spot on in every detail.

Our diffuser chaser blocks :


We fabricate these in the same black finish to be screen accurate. We place underneath the 3 blocks a total of 18 warm white LEDs for the pulsating movie speed chaser effect. 4 LEDs placed under each of the 3 diffuser blocks.



Internal board General Illumination Lights (GIL) :
We have four super bright white LEDs for the internal general illumination (one LED in each corner of the internal board totaling four LEDs). We also include a string of 80 super bright white LEDs surrounding the inside of the enclosure to give off the same super bright FX as seen in the movie on the Flux Capacitor just before Marty was to travel thru time.

Temporal Displacement Light & Audio Time Travel mode.


"NOTE" . . .

​

only available on our 65/35 Time Travelers or Time Dispersal versions




Just as in the movie version, we placed a super bright Xenon LED located in the middle of the three diffuser blocks and a sound byte module for the Temporal Displacement feature. When triggered by our handheld wireless remote or can be triggered by our 88 MPH Speedometer, TFC Drive Switch or our Overhead Aux. Switch Panel, the unit simulates when Marty was entering Temporal Displacement mode for time travel by going into "FULL ON" mode giving off a blinding white light from all the LED's in unison with the audio playback for 15 seconds. Once the Flux Capacitor has completed the Time Dispersal effect, unit reverts automatically back to the pulsating flux mode.



Wireless Key Fob remotes for the

Time Displacement and 65/35 Time Travelers versions


Remote button to Turn On/Off our Flux Capacitor remotely and 3 button to activate various audio features
​


4 movie correct replicated exterior replicated connectors:


One medium silver located on the top left side, one extra large silver PVC located on the top, one small located on the right side and one large made Cannon on the side of the enclosure



3 correct red enclosure placed labels of:


"Disconnect Capacitor Drive Before Opening" on the top of the enclosure door & "Shield Eyes From Light" on the enclosure door window. We use the same 1980s vintage label maker, glossy red tape and identical font used by the movie prop makers to print these labels

Our Flux Capacitor prop replica is powered by any 12vdc power source :
If you wish to display your unit in your home or office, you can power it with our optional plug-in electrical AC/DC Power Adapter: If you wish to install the Flux Capacitor into your Delorean for show, you can use a power source such as the cars battery, the cars fuse block or a cigarette lighter plug. You should "ALWAYS" install an easily accessible exterior power inline fuse to protect your item.

All our iconic prop replicas are:
Dated, numbered, signed and autographed on the backside by the artisan.

Certificate Of Authenticity (COA).

"NOTE" . . .

only for the 60/30 Time Travelers versions


Impressive collectors registered document dated, signed and autographed by the Artisan

1955! That was the day I invented time-travel. I remember it vividly. I was standing on the edge of my toilet hanging a clock, the porcelain was wet, I slipped, hit my head on the sink, and when I came to, I had a revelation, A vision! A picture in my head! A picture of this! This is what makes time travel possible: "the
Flux Capacitor" ..... doc e. brown
FYI.....
Our Flux Capacitors are made with "STRONG" & "SOLID" components.
​ Every component is secured using nuts and bolts, Our electrical components are designed & installed by our team of professional Engineers.


Our

Flux Capacitor

Series
All include screen accurate features and audio/visual electronic special effects​

This Flux Capacitor was the prototype designed by Coulombe Enterprises in 2007 exclusively for Diamond Select Toys using dims of their request
The Flux Capacitor pictured here is slightly different from the iconic movie version in enclosure, relay, and diffuser color. The prototype version was altered slightly in production at the request of the contracted Chinese fabricator to be more cost effective by using parts readily available to them. The final DST version does resemble the movie screen version but is not screen accurate in many ways. It was DST's desire to design a Flux Capacitor to be affordable to their customers and have a style of its own.
Movie sceen grab photos to compare just how amazingly accurate our Flux Capacitors are.
S
C
R
E
E
N
A
C
C
U
R
A
T
E
D
E
T
A
I
L
S
HOW TO
INSTRUCTIONS
$949.00
120vac Power Adapter included
$899.00
120vac Power Adapter included
"NOTE" . . .

If this unit is not in stock, you can still place an order but, there will be a required 6-8 week assembly time before shipping.
"NOTE" .......

If t
his unit is not in stock, you can still place an order but, there will be a required 6-8 week assembly time before shipping.
60/30 Anniversary


​

Time Travelers Flux Capacitor
Limited Edition of 100 Signed by Christopher Lloyd
Includes: Time Dispersal Fluxing Mode, Time Travel Mode, "NRG" electrostatic energy background noise and several iconic music bytes from the movie. All these features are controlled by a handheld 4 button remote

Lastly, the best feature, an numbered autographed plate mounted in the top of the enclosure signed by Doc Brown himself Mr. Christopher Lloyd !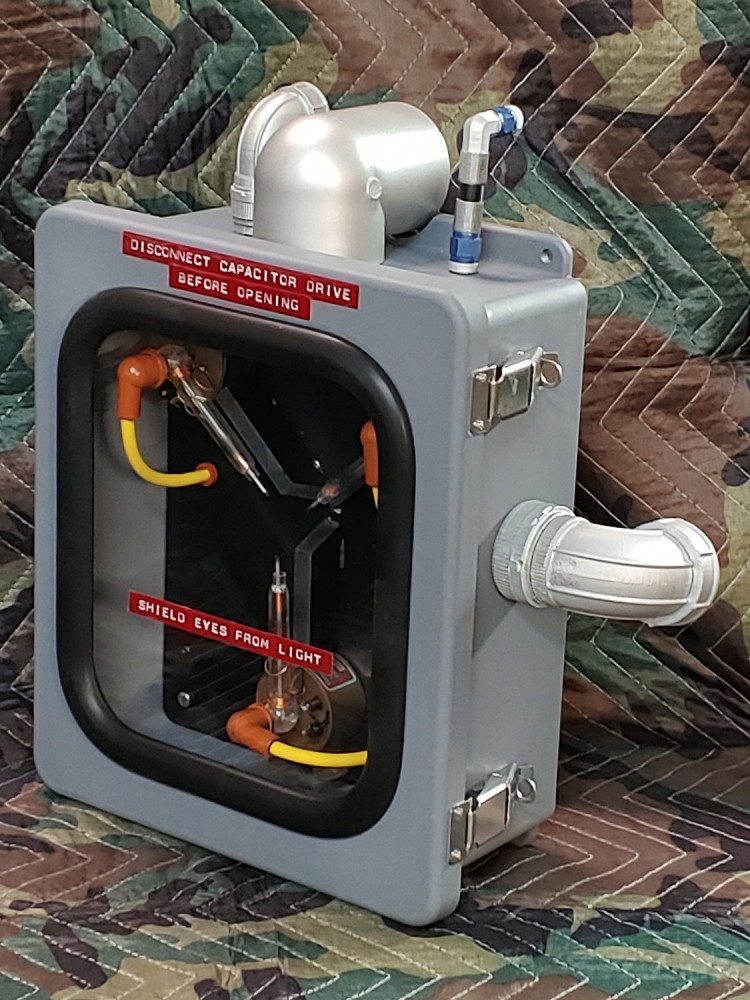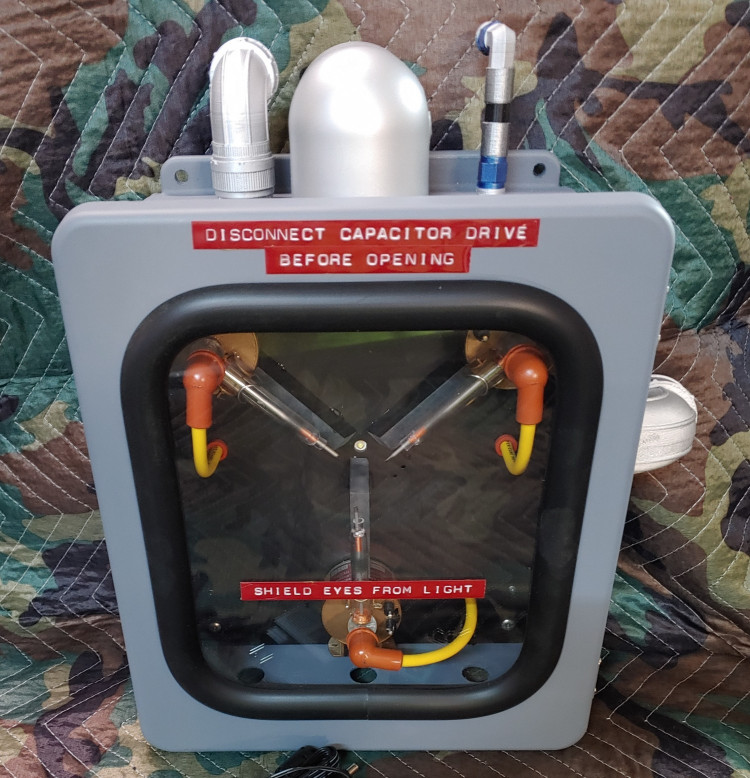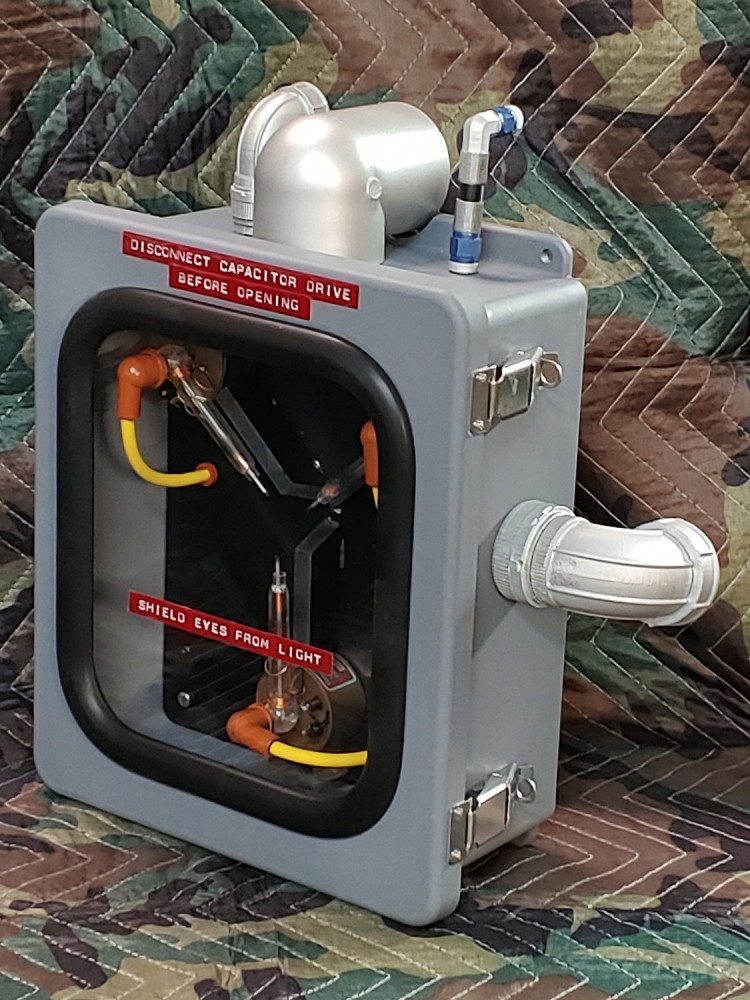 Choose your free Power Adapter.
Be sure​ to tell us your choice in the PayPal notes section, otherwise "USA" will be sent
"NOTE" . . .
If this unit is not in stock, you can still place an order but, there will be a required 6-8 week assembly time before shipping.
120 vac Power Adapter Included