Our Clients Testimonials

On our Delorean Time Machines and Prop Replicas
You will not find better crafted or more movie screen accurate reproductions anywhere!

Our team & staff is dediciated to providing professional service and high craftsmanship on all of our props and our
Delorean Time Machine Conversions.
Back To the Future
Delorean Time Machines



Give us a call and listen to what we have to offer, straight out of
Doc Brown's Laboratory &

cei

facility. You'll be glad you did.

If you think you'd like to purchase any of our iconic Delorean Time Machine conversions,
give us a call to discuss how we can personalize a package quote within your budget



email:

info@DeloreanTimeMachines.com

or

Phone:

(561) 752.7535



What our clients have
to say about our...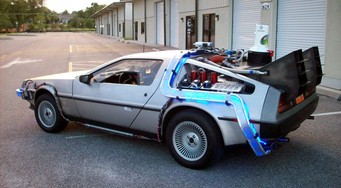 "

Bruce
Wanted to let you know how pleased I am with the Delorean time conversion you did on my car
You, Mary and your staff did an excellent job on the props for the car, I could not be happier.
Your attention to detail is awesome, everyone that sees the car says "WOW"
The hover conversion really sets this car out from all others.
Please feel free to use me as a reference for your company
Al Arney"
Al & Brenda Arney of Chicago Il. area, are the proud owners of a 1981 DeLorean Vin # 3255.
Al commissioned CEI to build for his family, our iconic 2015 Fly'n Time Machine series with Hover Illusion and loaded electronic special effects..
The conversion was delivered to them on October 26, 2010 via transporter. Waiting to accept the car & give the final thumbs up was their 5 year old grandson Evan. At the age of 5, Evan is an expert when it comes to the details of the BTTF Movie. It was Evan that had the idea of a hover option. Evan asked his Grandpa Al to add the Hover Illusion to the conversion. Thanks Evan, We are giving you the official title of : Junior Asst. to Doc E. Brown.

Below is an email we received from Al Arney on November 5, 2010.......
2015 Fly'n Delorean Time Machine
Assembly # 1989-03-3255.
Al Arney owner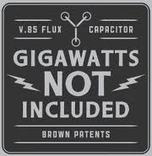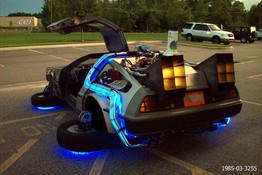 What our customers have to say about our...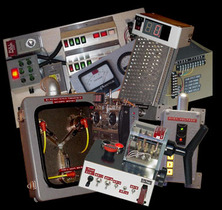 Alexandre Chaumont, France ......

"Hi Bruce, I just received the flux capacitor (12/23/11) thank you it is fabulous I will immediately put in my car (not a DeLorean unfortunately). Happy Holidays to you too and see you soon. Thank you very much !"
Time Departure Circuits
Jerry Holbrook of New York, Oct. 2012.....
"Bruce, I wanted to commend you on these time circuits. I just unboxed them and have yet to power them up, but wow, they are amazing. I was hesitant to spend the money. $2500 is a lot of money to me, but I'm so glad I did. Not only do these look the part, but the build quality is exemplary.
I'm extremely impressed".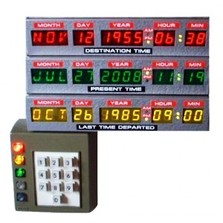 Luke Brynycz - UK.....

"This is one of my favourite possessions in life. The detail of these Flux Capacitors is incredible, and the remote controlled features really set them apart from the rest. Worth every penny (cent)! Bruce is THE MAN!"